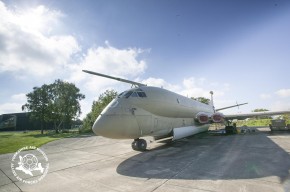 Yorkshire Air Museum offers free entry to Elvington residents throughout 2019!
We are so lucky as a village to have the wonderful Yorkshire Air Museum on our doorstep, and for 2019 entry is FREE to residents!!
As a resident, there are strong chances that your house is located either near or on what used to be the former wartime airbase of RAF Elvington.
This site was used extensively during WWII successively by three squadrons flying Halifax bomber aircraft. You'll no doubt be familiar with the French Memorial located on Elvington Lane, however did you know that it is dedicated to the memory of the 2,300 French personnel who were based at RAF Elvington from 1944 to 1945?
The monument also has an identical sister memorial - if somewhat a bit bigger - in Grandcamp-Maisy in Normandie where the French squadrons of Elvington were sent on their first bombing mission in June 1944 aboard Halifax aircraft.
Today, you can still experience some of the original site of RAF Elvington. When you visit the Yorkshire Air Museum. You can also see the only example of a complete Halifax in Europe.
Over the years, the Museum has gained national and international recognition for its involvement in memorial commemorations for allied aircrews. It has also acquired and cares for an exciting collection of historic aircraft and vehicles.
On the doorstep of the village, the museum works hard to preserve local heritage which it is keen to share with the residents of Elvington. A visit to the museum cannot fail to take you back in time with its tremendous atmosphere which has made it an award-winning attraction. With 15 indoor displays, a cinema, an original Control Tower, 2 aircraft hangars, education and archives facilities as well as a restaurant, there is plenty to keep you occupied for as little or as long as you wish.
Whether you want to experience sitting in a cockpit, learn about Elvington during the war or the history of aviation, attend one of the family events, eat a Sunday roast or simply pop in for a coffee and piece of cake, there are plenty of reasons to visit the museum again and again.
The museum management is keen to welcome more local residents to its site so that they can engage with their neighbouring heritage.
Admission to the museum is FREE to all Elvington residents or business owners throughout the year, including on events days. To claim your free admission, simply present a drivers licence or utility bill with proof of address for each person wishing to take advantage of this offer (children excepted). Standard admission charges apply to non-resident guests of Elvington residents.
NAAFI restaurant
The restaurant is open every day and serves coffees and light refreshments throughout the day as well as hot meals between 12.00 pm and 2.00 pm. On Sundays, the menu includes a well-loved Sunday Roast from £7.65 for a standard adult portion.
http://yorkshireairmuseum.org/plan-your-visit/