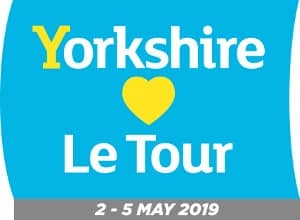 The Tour de Yorkshire comes to Elvington!
On May 2nd, the Tour de Yorkshire will be passing through Elvington, on the first day of this year's Tour. There'll be plenty of news and updates over the coming weeks, but this is the chance to really put Elvington on the map and turn the village blue and yellow!
There's likely to be some disturbance as the roads are closed when the Tour passes through, which is likely to be between 3pm and 4pm on the 2nd of May - which is also polling day in the village.
The Parish Council has set up a small working group, and will be getting in touch with representatives from the various businesses, groups and organisations in the village to ensure there's a good communication channel of all that's being planned. 
It will be great to see residents getting involved paining old bikes, planting blue and yellow plants across the village, and making bunting to adorn the village!
A new Facebook group has been set up for those who would like to join, and keep looking on the village websites to see updates!