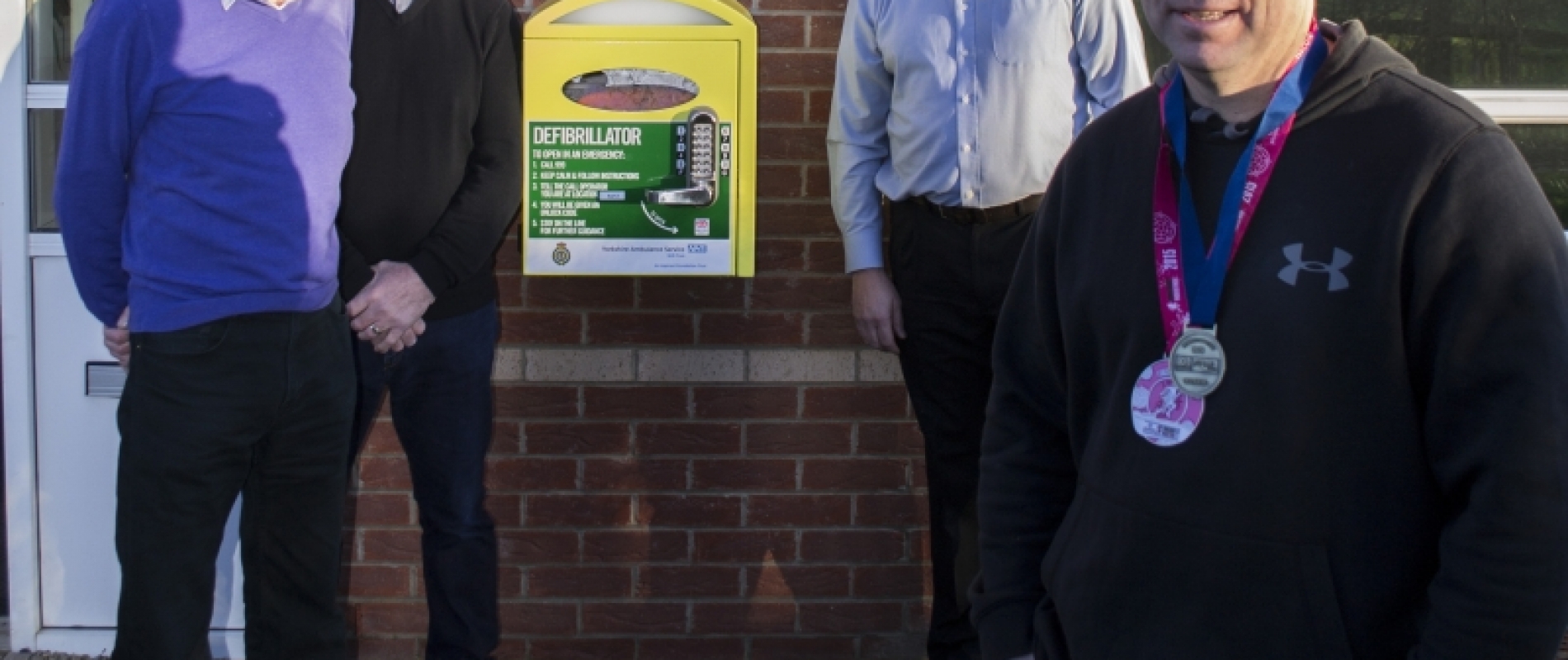 Village gets two defibrillators thanks to resident's marathon effort
Elvington resident Colin Skelton pulled on his running shoes to raise money for a defibrillator for his village – and managed to raise enough for two!
A keen fundraiser and Volunteer Community First Responder, Colin decided to complete both the Great North Run and Yorkshire Marathon to raise funds for an AED unit.
Colin said: "As First Responders we have an AED, but we're not on duty 24/7. I thought that if I could raise the money and purchase one it would cover the village all the time if someone needed one.
"Working with my personal coach Joe Thorpe from Impact Fitness I got into training and I was delighted to complete my first ever marathon in a time of 4:52:47.
"With the marathon and Great North Run under my belt the money started to come in and so many businesses supported what I was trying to achieve, including Elvington Park Building Services, Rolawn, Formula Exhibitions, Marshall Arts, Elvington Plant Hire, Mad About Electrics, Buckley for Flooring, Skelton Plumbing Services, Compass Cakes as well as friends and family members from all over the world donated to this worthy cause."
Colin's fundraising went so well that there was enough money for two AEDs, situated at the Village Hall and Elvington Medical Practice.
City of York Council has also given a grant to the Parish Council for a training AED for the Ward.
It will be used at two familiarisation events to be held in February, which will help residents to find out more about the importance and use of public access defibrillators and the need for effective CPR to help save lives.
Colin, who owns Skelton Plumbing Services, added: "I would like to thank everyone that has made my goal come true if one life can be saved by all the hard work I have done I know I have accomplished what I set out to do."
Dr David Lightwing, Senior Partner at Elvington Medical Practice said: 'We appreciate the effort that Colin has put into this initiative which provides local access to resuscitation equipment. I know how much training he put into completing the marathon and he thoroughly deserves the collective thanks and praise of the local community.'
Parish Council Chairman Ian Bailey said: "Naturally, the Parish Council was very supportive of what Colin was aiming to achieve, and for Elvington to now have two defibrillators is just fantastic. We're pleased that City of York Council accepted out grant application to buy the training AED which will play a key part in the familiarisation sessions without using 'live' units."
And for one supporter, Andrew Hudson from Elvington Park Building Services Ltd, support Colin's fundraising had a poignant significance.
Andrew said: "When I heard Colin was fundraising for a defibrillator, it was only months previously that I remember kneeling at my friend Chris Olsen's side, desperately awaiting help whilst applying CPR.
"It was the longest 12 minutes of my life, and sadly Chris passed away. I'm not sure whether the defibrillator would have changed the course of life, but at least we could have tried.
"It was a simple decision to support Colin because my family and I are in the village, and the Elvington Park Building Services team make their living here.
"If now having our own AED can make the difference for just one person then it will be worth its weight in gold."
Two familiarisation sessions will be held in Elvington Village Hall on Saturday, February 20th and Saturday, February 27th between 1pm and 4pm. This is a drop in session, where Community First Responders will spend around 15 minutes showing residents the kit so they are familiar with what to do should the need arise.